Ginger Root Records

OZ TRIPS

Click on the images to check out photos and narrative of our first two trips to Australia in 1999 and 2001.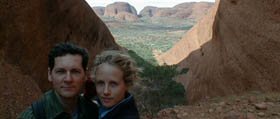 Oz Trip The First, July-August 1999
In which Randy Graves & Brandi Chase wander Australia visiting many sites and people of interest, including time in Arnhem Land with Djalu' Gurruwiwi & family. This is the more comprehensive site, featuring more parts of Australia, and details on making didgeridoos and woven craft in Aboriginal styles.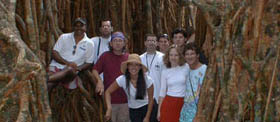 Oz Trip The Second, May-June 2001
The Magical Didjeri Tour, in which Randy Graves & Brandi Chase lead an intrepid group of friends & didgeridoo fans on a trip to Australia, primarily featuring visits with David Hudson & Djalu' Gurruwiwi. This is the more beautifully designed site, with a few activities not covered in the first trip, such as a stingray hunt.