About
Ginger Root Records
Ginger Root Records was co-founded by Randin Graves in 1997 for the release of CDs by his then band Didginus. Later releases included solo works by Randin, top seller music from the History of Martial Dance, the band Genetic Engine, instructional CDs in didgeridoo by Randin and djembe by Michael LeBien, and a collaboration in Australia with Buku-Larrnggay Mulka to produce Milkay Mununggurr's Hard Tongue Didgeridoo, the first detailed instructional CD in the traditional yidaki didgeridoo style of the Yolngu People of northeast Arnhem Land. At this time, Ginger Root Records is just for Randin's work as a world fusion artist and film composer.
About
Randin Graves
One of the world's foremost proponents of the didjeridu, Randin has played music from classical to electronica, with Australian rock legends and Aboriginal ceremonial leaders, and has lectured everywhere from American elementary schools, libraries and universities to the National Museum of Australia. He was awarded 2003-4 Australian-American Fulbright Fellowship to relocate to the remote community of Yirrkala, where he lived for five years, completing a Master's Degree with a project on the didjeridu at its traditional origins, working as a coordinator of Buku-Larrnggay Mulka, one of Australia's leading Aboriginal Art Centres, and eventually becoming a dual citizen of Australia and the USA. He is now back in the USA and available for recording, performances, lectures, workshops and private lessons.
randin's full CV - randin's didj music CD's - randin's didj teaching CD's - randin's film composer website - contact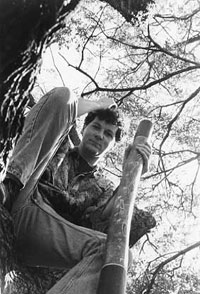 Randin, then known as Randy, began playing the didgeridoo in 1993 while a music composition student at the University of California at San Diego. He began performing publicly and co-founded the world fusion band Didginus in 1995. Didginus performed around the American southwest and released two CDs before disbanding in 2000. Randin continued as a solo performer, in various collaborations, and in the jazz fusion band Merge.
By 1999, Randin had earned a reputation as one of the foremost American teachers and performers of the instrument, but he had not yet been to its origins in Australia. He finally had the opportunity to travel the continent in July-August 1999, with some focused time in Arnhem Land, the home of the didjeridu, and particularly with Yolngu elder and didjeridu master Djalu Gurruwiwi. This changed everything. He continued his work as an American performer, releasing three solo CDs and his instructional series Your Didjeridu Companion, but the draw to return to Arnhem Land was strong. In 2001, he organized a tour group of American didjeridu players to spend time with Aboriginal didjeridu legends David Hudson and Djalu Gurruwiwi. He was in the first test class in online study of Yolngu language & culture at Charles Darwin University (then Northern Territory University) and visited again in 2002 to spend more time with Djalu, attend the Garma Festival and begin work on the next step - his application for a Fulbright Fellowship. This was ultimately successful and eventually lead to Randin's emigration to Australia.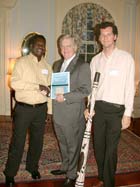 Randin arrived in Arnhem Land in February 2004 and worked as a volunteer at the Buku-Larrnggay Mulka community art centre, handling buying and selling of didjeridus and other art from the remote community of Yirrkala to the rest of the world. He began work on his Master's Degree in Aboriginal and Torres Strait Islander Studies at Charles Darwin University with supervisor Michael Christie, which lead to the comprehensive didjeridu information website Yidakiwuy Dhawu Miwatjngurunydja and the late Milkayngu Mununggurr's (original didjeridu player with the seminal Aboriginal band Yothu Yindi) instructional CD Hard Tongue Didgeridoo. Randin & Milkay also traveled around Australia that year, appearing at a Fulbright reception at the American embassy (pictured with the ambassador to the right), speaking on ABC radio, lecturing at and viewing the didjeridu collection of the National Museum of Australia in Canberra, and presenting a workshop at DidjBeat, then the largest didgeridoo store in Sydney.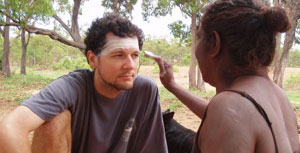 By the end of 2004, Buku-Larrnggay Mulka hired Randin as full time assistant coordinator and sponsored his migration to Australia. His work continued with Milkay, completing Hard Tongue Didgeridoo and performing and presenting workshops at the inagural Dreaming, Australia's largest Aboriginal festival. There Randin also performed on guitar and backup vocals, singing in English and Gumatj, with the late Aboriginal rock legend George Rrurrambu of Warumpi Band, singer of the first ever rock single in an Aboriginal language. George and Randin finished the festival's closing ceremony by leading the audience in stirring renditions of his classic songs My Island Home and Blackfella Whitefella.
In 2007, Randin set up and was the founding coordinator of the Mulka Project, Buku-Larrnggay Mulka's new multimedia training and production centre. He oversaw the repatriation of film, audio and still images from museum, academic and private collections around the world into a community accessible digital archive, and began the process of training the community to take the reins of digital media to tell their own stories from now on. This included the start of the Mulka Manikay Archives series of CDs (Randin recorded and produced the first three of a now much larger series) and several film workshops and productions, including the short film Two Brothers at Galarra which played in international film festivals. This was an incredible experience that greatly deepened Randin's knowledge of and connection to the culture of Arnhem Land.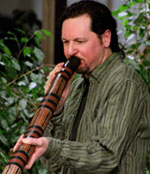 Family circumstances brought Randin suddenly back to the United States - Salt Lake City, Utah, to be precise - in early 2009. He has gone back to his first love, music composition for film and other media, but continues to stay active with the didjeridu and Aboriginal culture from afar. He performed with his old friend and Mulka collaborator Wukun Wanambi at the opening of an exhibition of Yirrkala artists at Harvey Art Projects in the USA in 2011, guest lectured to the world music class every semester at the University of Utah, presented children's and family programs at all the Weber County Library locations, performed original work at Salty Cricket Composers Collective concerts, and has been invited to a residency in the Fall of 2013 with the Center for World Music in San Diego. He has used didgeridoo where he can sneak it in to his own film music and is available for session work.
randin's full CV - randin's didj music CD's - randin's didj teaching CD's - randin's film composer website - contact