Brandi & Randy go to Kata Tjuta
go back to the beginning - Ginger Root Home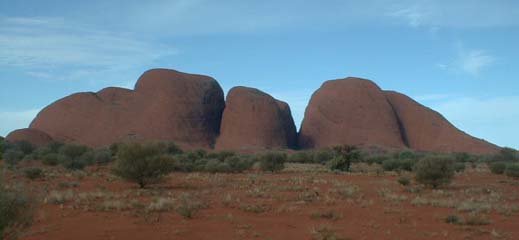 On our first full day in the desert, we went to Kata Tjuta, "The Place of Many Heads."
Kata Tjuta is a short drive roughly west of the more famous Uluru.
This is the standard tourist shot of Kata Tjuta that you see everywhere.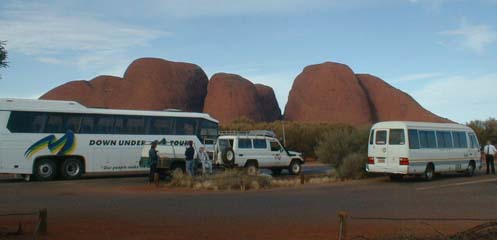 Here's the standard tourist shot of Kata Tjuta, but actually showing signs of the tourists!
| | |
| --- | --- |
| This lies at the entrance to the Valley of the Winds, well known as a sacred women's place for the local Aboriginal people. This particular formation right at the entrance sure seemed to us like a mark of ownership. It was one of many very feminine features of the rock in that area, all totally natural. | Another part of the Valley walk. Brandi couldn't help but repeatedly comment how much it looks like Southern Utah, and other parts of the American Southwest. |
| This shot shows the famous red earth of the center. Just like Utah, says Brandi. Another secret the central Aussie tourist industry doesn't want you to know... that red earth covers the entire Northern Territory, all the way up to the Gove Peninsula, but you'll see that later. Unless you've skipped ahead to read the end of the story, you naughty person. | A view up the valley. Another comment on the myths about the center... it's often referred to as the "dead center." Yet it's one of the most lush deserts I've ever seen! |
| Another shot of the plantlife of the desert, even in the dry season. To be fair, I should say that these large rock formations are where it is the most lush. All the water that runs off the rocks gathers in small areas where you get the most life. | Here we are at the top of the Valley of the Winds walk. In the distance is... well, what looked like the end of the world. That's the off limits part of Kata Tjuta. As everywhere in Aboriginal territory, access is extremely limited for visitors. |

And on the next day we went to Uluru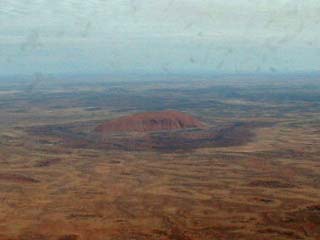 all photos ©1999 by Randy Graves and Brandi Chase
Please do not copy them for your own use without permission!