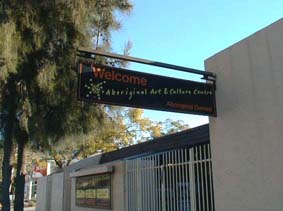 Entering one of our first stops, the Aboriginal Art & Culture Center.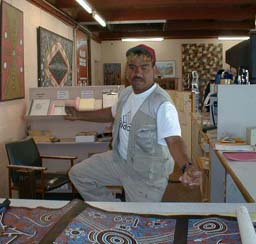 A pleasant welcome from Shane, one of the staff and teachers of the Culture Center.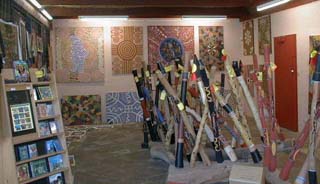 Some of the instruments and artwork at the Center, and the ever-present David Hudson cd rack. The art at the center was fantastic, and we got to see deals made with local Aboriginal artists who came in off the street with paintings of their own. It was good to see that a lot of the work at the center really is from the immediate community. The didges on the other hand... well, are imported from further north, but the artwork is done locally.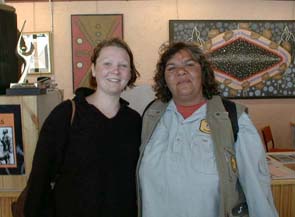 On the left is Emmi, a Dutch medical student we happened to meet up with both here, and in our hostel in Katherine. On the right is Raylene Hudson, our guide on the Center's half day tour.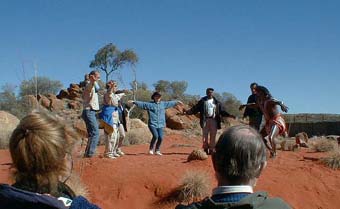 Part of the tour... dance lessons! Here's Brandi making like a bird. Fortunately, we don't have pictures of the other tour activities... we weren't the best boomerang throwers.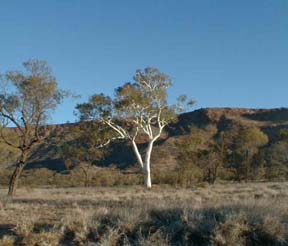 A glowing ghost gum tree in the Alice countryside.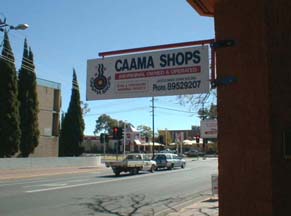 The front of the Central Australian Aboriginal Media Association, which seems to do a lot of good work. They've put out a lot of cd's for Aboriginal bands, many of which were recorded in their own studio, inside this building. Also inside is a store, offices, a radio station, and television broadcasting facilities!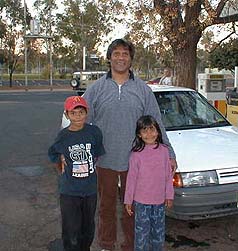 Paul ah chee Ngala, head of the Culture Center AND Chair of CAAMA, along with two of his children. Paul's very friendly, and obviously doing a lot of good work for his people.